2023-24 timetables:
Subject Key for 1st years (shortened versions of subject names as they appear in the timetable):
Iri = Irish
Eng = English
Mat = Maths
His = History
Geo = Geography
Sci = Science
Spa = Spanish
Fre = French
Rel = Religion
MoC = Men of Character
Rht = Rhetoric
Mus = Music
VArt = Art
GtQ = Great Questions
FoL = Foundations of Language
Cho = Choir
PE = PE
Academics
Academic excellence is an essential part of the offering at Rockbrook School.  Rockbrook is a vibrant learning community with a high standard of teaching.  Good habits of study and work are established early on, leading to students being well motivated and creating a strong atmosphere of study within the school.  Boys are encouraged to develop a solid spirit of enquiry and to become self-directed in their study.
Striving for academic excellence is what we do best in Rockbrook.  Every student is expected to put in his full effort and achieve the grades he is capable of attaining.  The school provides a robust and broad curriculum for the Junior Cycle, augmented by its own pioneering courses and programmes.  This is followed by Transition Year, and then two years of Senior Cycle.
Rockbrook's Academic Council focuses carefully on every student's academic progress throughout his journey in Rockbrook.  On-going, timely and formative assessment for learning is part and parcel of our classroom teaching practice.  Each year is monitored by its own dedicated Year Head, who liaises closely with the boys, their mentors and their parents to maintain a spirit of serious study and high goals.  Our innovative reporting system provides essential milestones of student learning throughout the school year.
Junior Cycle
Junior Cycle is a three year programme running from 1st– 3rd year.
When entering 1st year, students begin with the following subjects, and continue with them for three years; English, Irish, Maths, History, Geography, Science, Spanish/French, Religion, Physical Education.
1st years also take both Art and Music, and at the end of the year choose one to pursue for the full Junior Cycle. 
Our 'Men of Character' (Wellbeing) programme runs for all three years, following two strands: 'Leadership and Service' and 'Healthy Living Skills'. 
From 1st year, students also do: Foundations of Language (for 1st year only), Rhetoric & public speaking (runs throughout 1st & 2nd year) and Great Questions course (runs throughout 1st & 2nd year)
2nd year students start additional courses in; Applied Technology & Digital Skills (runs throughout 2nd & 3rd year) and Business & Finance (runs throughout 2nd & 3rd year)
In 2nd and 3rd Year, students engage in continuous Junior Cycle Classroom Based Assessments (CBAs) and in June of 3rd year they sit State Examinations in eight of the subjects they began in 1st year.
The uniqueness of each boy is recognised and respected, and each is encouraged to maximise his potential.
Transition Year
Transition Year is a one year bridging programme that enables students to develop a broad range of personal, social, and academic skills, and ultimately approach Senior Cycle with a greater degree of ability, confidence, and maturity.
Our tailor-made programme helps our students make the move from a highly-structured Junior Cycle environment to one where they can take greater responsibility for their own learning and decision making. Within the programme, students will participate in learning strategies which are active and experiential, and which help them to develop a range of transferable critical thinking and creative problem-solving skills. It also provides an opportunity for students to develop an awareness of the value of education in preparing them for the ever-changing demands of the adult world of work and social relationships.
Besides continuing to attend lessons in the subjects' students have been taught to date in Junior Cycle, our boys take specific courses in Leaving Certificate subjects such as Economics, Business, Physics, Chemistry and Biology (which they may then opt to pursue in 5th year as part of the Senior Cycle).  They also take school courses in Digital Skills for Work, Outdoor Man, Media Studies, Classical Studies, Career Guidance, Drama, Leadership and Politics.  The emphasis is on active and experimental learning strategies that develop a range of transferable critical thinking and creative problem-solving skills.
Our 'Coming of Age Programme' comprises educational activities that promote personal maturity and better social competence.  Once a week Transition Year students participate in off-site sporting and outdoor pursuits, coupled with local heritage visits.  In March/April the year group takes to the road for an unforgettable seven day trek o the Camino de Santiago in Spain.  In addition, their two weeks of Work Experience during the year gets them into the 'real world' and provides essential insights into adult working life.
Senior Cycle
Senior Cycle is a two year programme running from 5th – 6th year, at the end of which students sit the national state examinations, the Leaving Certificate.  Consistently Rockbrook Leaving Certificate students receive results which qualify then for entry into Irish and international universities. 
Senior Cycle in Rockbrook is when each student forges his future as he wants it to be, laying stable foundations for everything that will be strong, enduring and successful in his career.
Students take seven subjects for the two years.
In 5th and 6th year there is a core programme of English, Irish, Maths, Physical Education and Religious Education, and a choice from French, Spanish, Applied Mathematics, Art, Biology, Business, Chemistry, Economics, Geography, History, Music and Physics.
Throughout the Senior Cycle in Rockbrook students will be provided with ongoing constructive subject feedback, regular reporting to parents/guardians', learning support, study facilities, career guidance, and student mentoring.
He has grown into a gentleman, has respect for himself and for everyone else.
Supporting Student Needs
Rockbrook is an inclusive school that seeks to maximise the academic progress of all students enrolled, building on the potential of each individual.  Additional education needs, which vary from student to student and even from year to year, are identified and supported. 
Students attending Rockbrook are helped to overcome short-term barriers to learning and to manage any long-term difficulty.  The school's learning advancement strategies are designed to foster lasting outcomes and to raise confidence, aspirations, and expectations of students.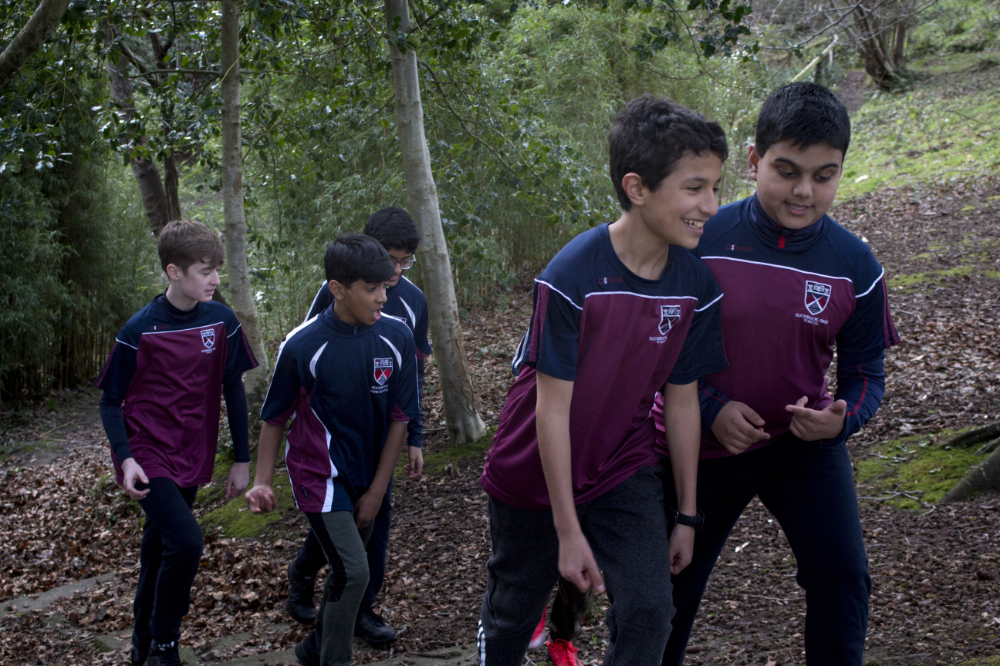 Boys feel valued in Rockbrook; teachers notice their strengths and weaknesses, and work with them as they are.